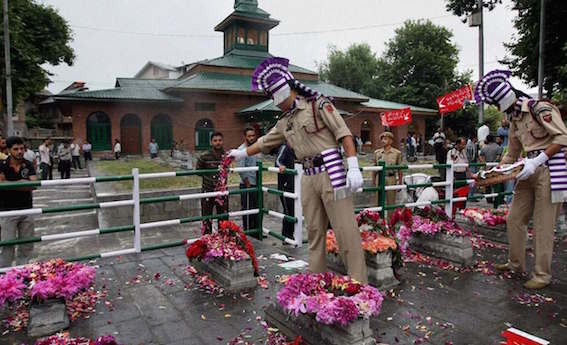 Kashmiris living both sides of the line of control and rest of the world observed the 84th Kashmir Martyrs Day on Monday with the renewal of the pledge to continue the mission of the Kashmiri martyrs through continuing the freedom struggle.
Symposia and meetings were the hallmark of the Kashmir Martyrs Day across Azad Jammu & Kashmir and rest of the world to observe the day.
In Azad Jammu Kashmir, it was declared a state holiday to facilitate people to participate in the events of the day. This year, the Kashmir Martyrs Day is flanked by a sign of a new hope, that if India agrees to the ground realities without any reservations and learns a lesson from the historical facts that she (New Delhi) can not rule Kashmiris by force, may help bring a lasting peace and prosperity in the region.
Rallies and seminars were held to pay rich tributes to Kashmiri martyrs at various places in AJK.
The Kashmir Martyrs' Day is observed on July 13 every year not only on both sides of the Line of Control but also all over the world by the Kashmiris to pay homage to 22 Kashmiris who were martyred in 1931 to free Kashmir from the brutalities of despotic Dogra rulers.
The tragic day is the milestone in the advent of the Kashmiris struggle against foreign occupation which still continues under the Indian alien rule. (APP)