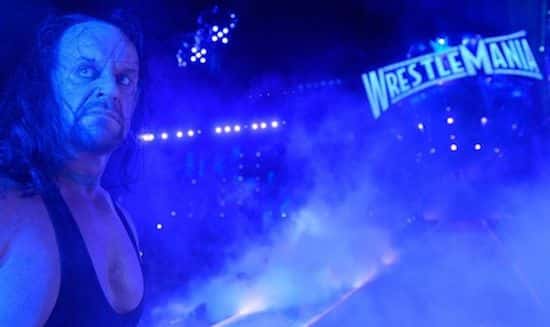 The World- Wrestling Entertainment (WWE) icon The Undertaker retired following his last match against the Roman Reigns at the greatest stage of Wrestlemania 33.
The Undertaker went into the match with Reigns having lost to only Brock Lesnar during his incredible WrestleMania.
Mark William Calaway aka The Undertaker has the unbelievable streak of 23 wins and one lost, prior to his last encounter with the emerging face of the WWE, Roman Reigns, which he lost. After the fight, the dead man signaled his retirement as he took off his hat, coat and MMA-style gloves and placed them in the middle of the ring – a sign that he has ended his career.
Thank you . WWE Universe for the love & respect, you have given me . With you my legacy lives on , never forget what I have done.

— The Undertaker (@WWEMarkWCalaway) April 3, 2017
After the loss, The Undertaker removed his gloves, his coat and his hat, and made his way back along the entrance ramp visibly emotional. He broke character to hug his wife, Michelle McCool, and, having taken his time to take in everything around him, walked away to retire as the greatest wrestler the WWE has seen.
#RAWaftermania is always one of my favorite nights , The WWE Universe really knows how to party & get Crazy .

— The Undertaker (@WWEMarkWCalaway) April 3, 2017
His retirement had made fans of WWE emotional, even the present and former superstars paid tributes to his legendary career that prolonged for more than two decades