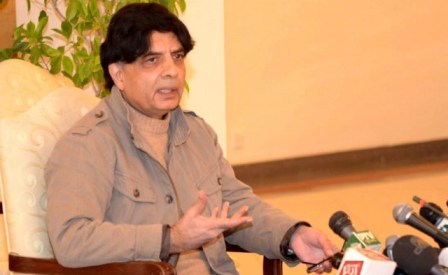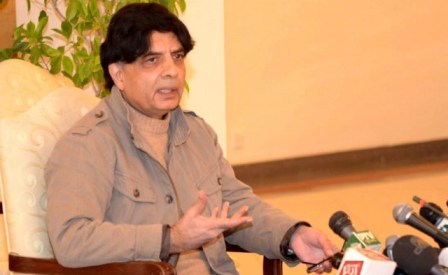 Interior Minister Chaudhry Nisar Ali Khan has warned to action against foreigners holding fake Computerized National Identity Cards (CNICs) after August 31.
Nisar Ali Khan  addressing a press conference in Islamabad on Monday warned the foreigners holding fake CNICs to surrender their cards before the end of this month, adding that drive against such people is underway.
He said after the deadline, fake ID card holders would be arrested, sent to jail and also deported to their mother countries.
The Interior Minister said, "About 23,000 fake ID cards have been identified. Around 224,000 CNICs have been re-verified in the first month."
Nisar also announced Rs10,000 prize each for the people for identifying fake Pakistani citizens.
Commenting on Rangers powers in Sindh, the minister said delay in the paramilitary force powers is tantamount to put their lives in danger.
In the last week of May, the interior ministry had launched drive for re-verification of CNICs of all Pakistani citizens and warned fake ID card holders with punishment up to seven years.
The Interior Minister had said 25 million families would be targeted in the exercise to make the verification process easier.