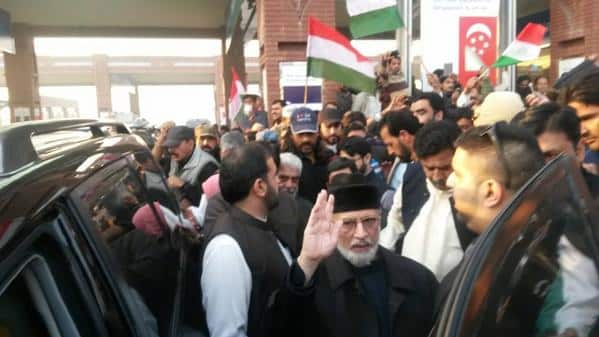 Pakistan Awami Tehreek (PAT) Chairman Dr. Tahir-ul-Qadri arrived Lahore on Tuesday morning .
Dr. Tahir-ul-Qadri has announced to start a campaign against the incumbent government and demand justice for martyrs of Model Town tragedy.
Addressing party supporter at Lahore International Airport, Dr. Qadri said that the Panama Papers verdict against Nawaz Sharif is revenge for the Model Town 'massacre'.
Referring the purpose of his Pakistan tour, he said."I will announce my future course of action at Nasir Bagh,"
Dr. Qadri's arrival in the country will put added pressure on the perpetrators of the Model Town massacre and the movement to bring them to accountability will gain momentum.
Earlier, Dr. Qadri, warned Punjab Chief Minister Shehbaz Sharif that he would be held accountable for the murder of 14 innocent people killed in the Model Town Massacre in June 2014.
The PAT has invited opposition parties to participate in the rally at Nasir Bagh.