Pakistan People's Party (PPP) Chairman Bilawal Bhutto Zardari wished good luck to .
'Tehreek-e-Ehtesab, the movement launched by the PTI is aimed at forcing Prime Minister Nawaz Sharif and his family to face accountability following revelations of their names in Panama Papers.
Bilawal said in a message on his Twitter account. "(The) democratic right to protest should be encouraged (and) not punished,"
"Panama Papers, (the) world's largest corruption scandal, has exposed Sharif's corruption. Govt must accept oppositions TORs or face the music."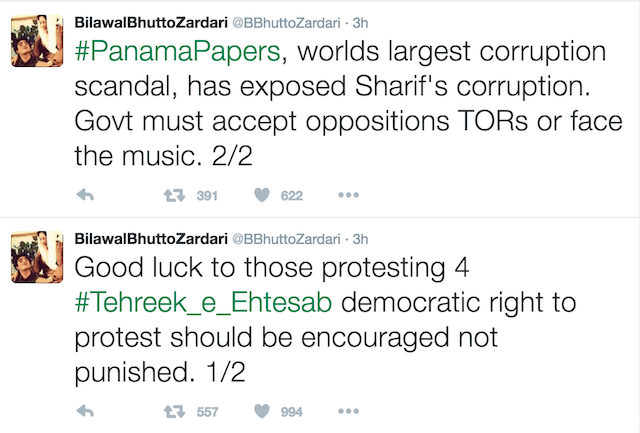 The rally is also part of the opposition's efforts to press the government to launch probe into Panama Leaks, which involved offshore holdings of Prime Minister Nawaz Sharif's family.
"This is just the beginning, this is just a trailer. The match will not end. We will be on the streets to mobilize masses till Nawaz Sharif presents himself for accountability," Khan said, addressing his supporters in Peshawar.
In the rally titled 'Tehreek-e-Ehtesab Rally', the procession of PTI supporters was heading to Attock where a large public meeting will be held in Khairabad area.
"Are parliamentarians not under duty to ask Nawaz Sharif how his properties have multiplied? This is stolen money and corruption money," Khan asserted.