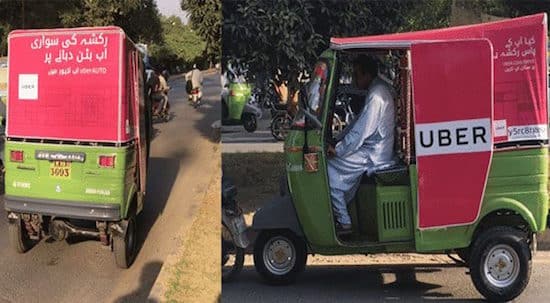 Uber Pakistan has launched a new service called UberAuto (Uber Rickshaw) services in Pakistan.
Besides Uber regular car services, the company has now started rides in rickshaws.
Rickshaw is the most cheapest and most popular mode of travel in Pakistan.
Urber's rickshaw service will indeed increase Uber's user base, reeling in more people who prefer the traditional three-wheeler over cars.
The Urber management believes that UberAuto's service can possibly end the hassle of hailing rickshaws on the road and negotiating rates as Uber aims to innovate the rickshaw segment of the transport industry.
Uber Pakistan has been facing tough competition from Careem.
UberGo services currently are currently priced at Rs. 6.84/km and Rs. 3.15/minute, and the company suggests its new UberAuto service will come in much cheaper.
Prior launching in Pakistan UrberAuto service was launched in India last year. However, the service was suspended after a mere 8 months.
Currently Travly is also providing same facility. Travly started off as a start-up three years ago and was able to raise $200,000 in seed investment from Cres Ventures.