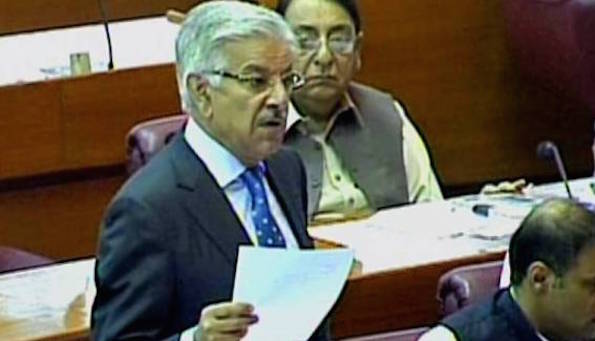 The Senate Tuesday passed the Pakistan Army (Amendment) Bill 2015 aimed at protecting court officials and witnesses and indemnity against prosecution in any other court of law with majority votes.
Minister for Defence Khawaja Muhammad Asif piloted the bill to further amend the Pakistan Army Act, 1952 in the House.
The statement of objects and reasons of the bills says: "An extraordinary situation and circumstances exist which demand special measures for speedy trail of certain offences relating to terrorism, waging war or insurrection against Pakistan and prevention of acts threatening security of Pakistan by any terrorist group using name of religion or sect and members of such armed groups, wings and militia.
"There exists a grave threat to the integrity of Pakistan owing to raising of arms and insurrection by terrorist groups. These groups are funded by foreign and local elements using name of religion or sect. They have to be severely dealt with under the law.
"In order to ensure proper conduct of trails, special measures for protection and indemnity against legal proceedings as well as arrest or detention of the accused persons; it is desirable that during the conduct of said trials, security and safety of court officials must never get compromised. Therefore, special measures for protection of such officials and indemnity against arrest/detention of terrorists are required." (APP)