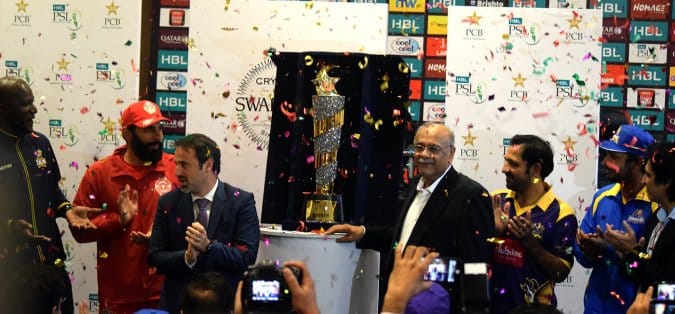 The Pakistan Super League (PSL) 2017 trophy was unveiled in a spectacular ceremony and press conference held today at the Dubai International Cricket Stadium.
The dazzling 'Spirit Trophy' designed by Swarovski captures the spirit of Pakistan cricket. The trophy was unveiled by Najam Sethi, Chairman PSL and captains of the five franchises. Managing Director Swarovski Andrew Mojica, Brand Ambassador PSL Ramiz Raja also spoke on the occasion.
Sethi reiterated the league's aim of holding the league final in Lahore; he also asked cricket fans to back the tournament to the hilt besides appreciating the interest of foreign players and coaches roped in by the five franchises.
Ramiz welcomed the participating players and thanked them for their interest in the league, the former Pakistan captain hoped that the second season of the tournament would outdo the success of the first season which drew massive interest in and outside Pakistan.
Features of the PSL Trophy
The 'Spirit Trophy' dazzles with the innovative Crystal Fine Rocks- a product made using over 50,000 double pointed crystals from Swarovski. Sitting on the pinnacle is the Shooting Star, a multi-faceted crystal sculpture made with precision cut technology.
From approval to final product, the trophy, has taken a total of 4 months to make from the renderings and mock ups to the final product.
The 'Spirit Trophy' celebrates the patriotism of a nation. Taking its inspiration from the brilliance of the universe- the trophy's central core resembles the galaxy of stars with a shooting star rising above and a golden crescent behind it.
This trophy binds Pakistan's hopes and aspirations with PSL's vision of cricket by bringing together established players and new talent under one banner.
Trophies for best batsman, bowler, wicket-keeper and man-of-the-tournament
PSL 2017 trophies for the best batsman, best bowler, wicket-keeper and man-of-the-tournament were also unveiled during the ceremony.
The best batsman's trophy, named after legendary Pakistan batsman Hanif Mohammad (Crystallized cricket bat) was unveiled by Lahore Qalandars captain and batsman Brendon McCullum, Islamabad United's captain and batsman Misbahul Haq and Karachi Kings' captain, the legendary Sri Lankan batsman Kumar Sangakkara.
The Best Bowler's trophy, a crystallized cricket ball named after legendary fast bowler Fazal Mahmood (Crystallized cricket ball) was unveiled by Peshawar Zalmi captain and all-rounder West Indian Daren Sammy.
The Best Wicket-keeper's trophy, a crystallized wicket-keeper's glove named after legendary wicket-keeper Imtiaz Ahmed was unveiled by Quetta Gladiators' captain and wicket-keeper Sarfraz Ahmed.
The Man of the Tournament's trophy, a crystallized Raising Star was unveiled by Karachi Kings' All-Rounder and former captain Shoaib Malik.
Action begins with an opening clash between defending champions' Islamabad United and Peshawar Zalmi on Thursday February 9, 9:00 pm.
New feed was taken from 'Samaa News'