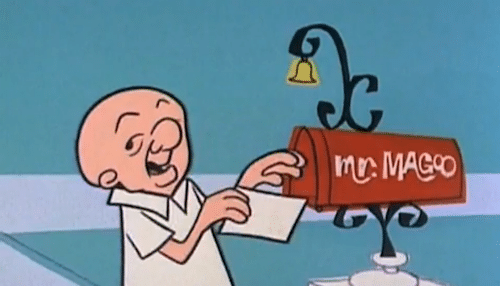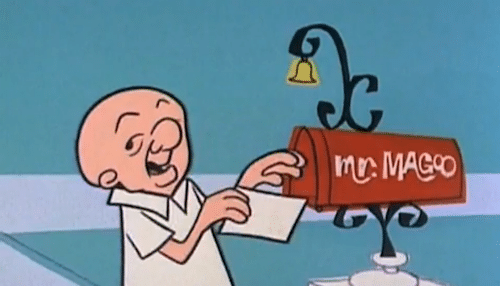 He's back and this time he's even older, blinder, and more dangerous!
Mr Magoo is making his television comeback nearly 40 years after the short-sighted geriatric cartoon menace was last pensioned off.
The disaster-prone senior who first appeared in 1949 is back in a new, revamped series, causing just as much chaos as before because of his continued refusal to wear glasses.
French animation company Xilam has revived the character first created in the United States as a subversive way of sending up mean-spirited McCarthy-era reactionaries.
Magoo's bumbling brand of slapstick was just the thing to "bring families together in front of the screen", Marc de Pontavice — the chairman at Xilam — told AFP.
And he insisted that there was plenty of life in the character yet. "He's not old, he's ageless. He is wonderfully innocent and optimistic as he goes around creating havoc", he said.
Both Magoo's original creators Millard Kaufmann and John Hubley were blacklisted during the Communist witchhunts early in the Cold War and saw the wealthy yet clueless character as a way of poking fun at their tormentors.
Pingu moves to the city
But over the years Mr Magoo became a lovably apolitical character who won generation after generation of fans through repeats of the original series.
"Mr Magoo is a hugely important figure in the history of animation," de Pontavice said. "He was the first character created by the UPA animation studio which was set up by people wanting to get away from Disney, and he set the tone for a whole new cartoon style."
In the new series, the myopic old age pensioner and his faithful companion Mr Cat (who is actually a dog) tussle with a megalomaniac hamster whose dreams of greatness are forever being thwarted by Magoo's mishaps.
The character last appeared in a Walt Disney live-action film version in 1997, which flopped badly despite starring Leslie Nielsen of Airplane! and The Naked Gun fame.
The new 78-part series of seven-minute shows will be screened late next year, with the first episodes premiered at the MIPJunior at Cannes on the French Riviera Sunday.
Sneak previews of two other rebooted classic children's series are also being shown at the gathering, one of the most important in the TV calendar.
In the first, Thomas the Tank Engine is set to return in a new series called Thomas & Friends, breaking the so-called 'fourth wall' — the imaginary barrier between the actors and audience — by directly addressing the train engine's young fans.
"In the new series, we've got Thomas talking directly to the audience, and it's a bit like he's taking the viewers on the adventure with them," said producer Micaela Winter.
"That's a huge difference from previous series where we had a storyteller telling the story, a bit like a parent reading a book," she added.
Pingu the penguin — the second one — is also in for some big changes, moving from his Antarctic village to a big city of ice in a new series from the Japanese broadcaster NHK, which has taken over the character from its original Swiss creators. (AFP)