Volunteers cleaned the racist messages  by the miscreants outside a mosque in Cold Lake, Alberta.
The mosque was vandalised, following the attack by a local man who had reportedly converted to Islam., unidentified people vandalised the Cold Lake mosque; smashed windows and painted racist messages like 'go home' through graffiti.
Following the incident, dozens of local community members volunteered to clean up and repaint the vandalised exterior of the mosque, as an effort which is widely being regarded as 'heart-touching' and 'a lesson for America'.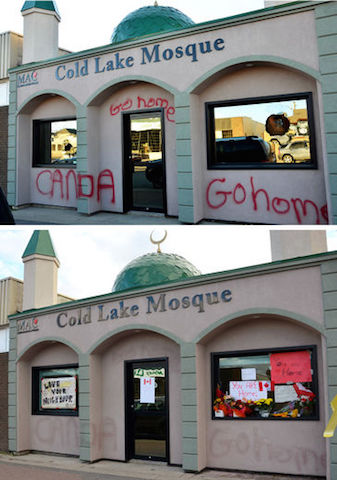 Ajaz Quraishi, president of the Cold Lake Islamic Society told the Canadian media that he knows that this was an isolated incident and that the 'vast majority' of Canadians does not endorse the actions of these isolated miscreants.
"I know just about everybody in the city of Cold Lake, and people are good… I don't know who did it, very hard to say, but I'm very surprised to … see this happen in Cold Lake," he said..