Why pepper sprays?
 Most of us who believe in self-defense prefer lethal over non-lethal force. However, in a self-defense scenario, a firearm is, by far and large, the best option available. It can quickly and effectively target multiple assailants beyond touching distance to ensure threat suppression.
Unfortunately, procuring a firearm for self-defense is only the tip of the iceberg. Not only does the individual in question have to have relevant documentation (licenses, permits etc.), but they also have the necessary training to utilize the weapon when needed.
But even more than that, they must have the 'mindset' necessary to engage the threat with (as the Americans put it so colloquially) "extreme prejudice." Can I do that? Kill someone without hesitation? Like most urbanized civilians, I have not been in such a situation, so I honestly don't know if I hesitate in that crucial second. But, pfft. My firearm is worse than useless. By and large, this holds even more so for the fairer sex.
A case in point is my sister. However, she is a better shot than me and went through the nightmare of a holdup. She refuses to carry a firearm simply because she knows that irrespective of what happens; she cannot kill a fellow human being.
Faced with this dilemma, I have been forced to seek recourse to pepper sprays for around seven years. Ever since they first showed up in the Karachi market.
I will try to encapsulate my experience regarding their capabilities as best as possible.
Most brands are generally advertised as being capable of "Instant Incapacitation." Note that 'instant incapacitation' is an ABSOLUTE necessity here! I cannot stress this enough! If the assailant is not 'instantly incapacitated,' he will kill you. Period!
How they work
By and large, pepper sprays work on moist skin only, so they must be aimed at the eyes, nose & mouth. It will not affect the hands or other skin areas if they are dry. So they tend to lose their efficacy in winter and colder climates. It's best to turn your face away as you spray, especially if it's windy.
Types
In Karachi, I have personally seen only two types.
1 Pepper sprays
2. Pepper foams.
Expiry dates: Pepper being an organic product, the spray/foam expires typically between 18 to 24 months max.
I will attempt to rate different products available here in Karachi. I am grading from 1 to 5, with 1 being the lowest.
"Valour anti-assault spray"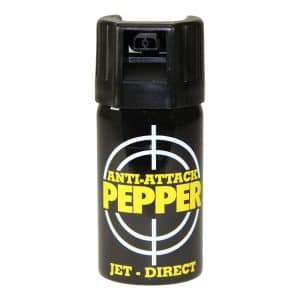 The first product in my survey! "Valour" is An indigenous pepper spray being very aggressively marketed by young entrepreneurs who have led an excellent and highly glamorous campaign: famous models, theme, storyline.. the works. The product is inexpensive, easily available, and is touted as the panacea for almost all hold-up-related problems. Best of all, it is delivered to your doorstep!
Price ranges from Rs. 500 for the smallest dispenser. To Rs. 1500 for the largest.
Even the name "Valour" is seriously awesome:
It means "great courage in the face of danger, especially in battle."
Unfortunately, there are other ways of committing suicide, but none are as effective and inevitable. The people who created this don't understand that NOTHING less than "Instant Incapacitation" is required in a self-defense scenario.
What Valour does is it creates a sort of mist between you and your attacker. But, unfortunately, the mist is like a first-year Hogwarts student's feeble attempts at a Patronus against a determined dementor…
And just about as effective… You might as well yell EXPECT PETRONUM!!! While at it. At least the yelling will get you some attention, though…
For a pepper spray to be effective, it HAS to have heavy particles that shoot outwards in a reasonably straight line. Not release a mist that hangs around the head of the person using the spray!!!
The only person it will incapacitate is you: The user. And if you are a female being subjected to criminal assault. You have pretty much gift-wrapped and offered yourself to your would-be ravisher.. on a platter. Best of all, with your eyes closed. You won't even be able to identify him later.
Luckily, the darned thing does not work all that well, to begin with, so I guess you will be safe once the bemused attacker figures out that you are trying to 'incapacitate' him. He might shoot you, though, on principle.
But don't take my word for it. Spend Rs. 500/- and try it out. If the applicator works, that is. When I bought a piece, I pressed the plunger. And nothing happened. I had to return it. I got another one.
Availability
(Last I checked) Motta's Clifton,  Elahi Bux and Co. Arms and ammo dealers (Teen Talwar) Opposite ICAP. And online via Facebook. I am sure there are plenty of other stores where it is available.
https://www.facebook.com/valoursystems
Efficacy (As per personal experience)
(Unless they have improved their quality drastically)Use it in an SD situation only if you have suicidal tendencies but have religious hang-ups about killing yourself personally.
Sabre Red "Foam":
The Sabre Red brand is touted as being used by the NYPD.
Ultraviolet dye, glow-in-the-dark safety. Made in the USA as well. Nice
This is how it is supposed to work.
Personal experience:
A 'friend' used it on me. It hit my arm. I was in an air-conditioned room. So no sweat. And hence no pain.   But I was feeling curious. I liked it. The tongue is sensitive and all that and very, very moist. Logically, I should have hit the roof. But I did not. It tasted quite spicy. I burned my tongue a bit. But nothing unbearable. Interesting.
So interesting that I ate it all. And unlike the picture above, the unit only throws a couple of milligrams in a shot. So the assailant has to stand still for quite some time for his face to be covered with the stuff. But if he 'likes it hot.' He probably will stand still for it.
Recommended if you want a little extra spice in your subway Kaa sandwich
Availability.
Tayyyabally and co.  First shop main lucky Star Sadder Karachi
Price:
Around 4k
Rating 1
(If I enjoy eating it. I can't rate it high as a stand-alone self-defense product)
Sabre Red pepper spray:
This is a Unit I recommend.
The NYPD used them to subdue hostile criminals who resisted arrest. It was the first unit imported by Tayabally when they introduced me to the Karachi Market in 2007.
Price:
It costs around 4.5k or so, depending on where you buy it.
Efficacy (personal experience):
Before handing it to my sis, I tried it out. The droplets are quite heavy and have a decent reach. Around 8 to 10 feet, they depend on wind conditions.
As I checked the range, a droplet inadvertently entered my eye. I frantically rubbed it. And I succeeded in getting it into my other eye. The droplets cannot be rubbed off. At all.
I was blind. I mean literally. L Could not open either one of my eyes, even a millimeter! So I had to stand patiently till a good passing Samaritan deposited me home.
And that was just one little tiny wayward droplet!! I shudder to think what a full broadside would do.
The unit comes with either a clip or a strap. And a safety plunger that U have to flick off before U use it. Unfortunately, it's also quite stiff.
I tried it out on a she-doggie as well. She refused to let me exit my vehicle. She was barking her head off. I sprayed her from a distance of 10 feet. And that particular she-doggie….. molested me no more.
She was too busy rubbing her muzzle on the ground to bother. (Horrible pun un-intended)
Availability:
It varies. I used to buy my units from the importers directly, Viz. Tayyabaly and Co.
But I have seen it at "Ahmed Traders at Khadda market (formerly Daltons) near Zamzama. I have also seen it at Aghas some time back. But since they have expiry dates. So they are taken off the shelves periodically.
Amazon Reviews
http://www.amazon.com/review/R1JLBTVH5BK4S5/ref=cm_cr_pr_viewpnt#R1JLBTVH5BK4S
Rating
4
American Style NATO Pepper Spray:
It says Nato uses it. All instructions are in German. It also says 'made in Germany.'
Theoretically, it's supposed to be under the use of Nato troops for pacifying hostile civilians in a combat zone. No idea if that's true or not. Unlike the other products in this review, it is NOT a pepper spray. But CS gas. Advanced Tear gas is far more potent than the other types mentioned above. Generally available to Law enforcement only. However, it is less effective against four-legged critters.
Effectiveness:
It had a range of around 10 feet easy. And I was coughing a good 5 minutes later, 30 feet away. The darn thing takes a long time to dissipate. The unit comes with a little cap on top to prevent 'accidental discharge' (Bad pun, un-intended again)
Price:
Rs. 700 to 1200 (depending on bargaining skills)
 Availability:
Now, this is a dicey question. To date, I have not been able to source it other than a tiny shop of odds and ends at the Kemari port. Usman Ghani is the owner, and I prevailed upon him to order at least a few dozen units. But, other than that shop, I have not been able to see it anywhere else.
Usman's contact number is 0331-5227456. (last I checked, he was out of stock)
Rating
3.5
Tailpiece:
The right brand. If used correctly can and usually does get the job done. The hijackers in the 9/11 airplane crash used them to subdue the passengers. And effectively unleashed the 21st-century version of World War III.
However, all weapons are to be used only "in the gravest extreme' as an absolute last resort. Once you decide to defend yourself, There is no going back. Any hesitation would leave an incensed violent criminal, Un-incapacitated. And that's not good. Not good…
Lastly, if the BG (Bad guy) has the drop on you, resistance of any kind is futile, even if you are packing a  grenade launcher in your purse.
Written By: Tahir Shabbir Attarwala