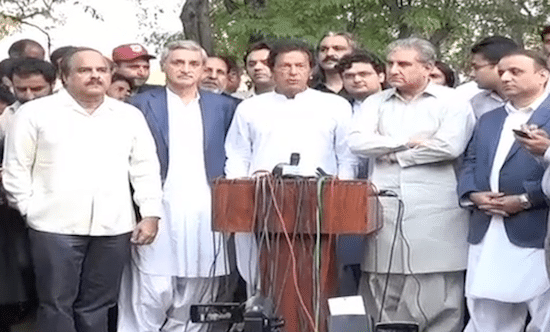 Pakistan Tehreek-i-Insaf (PTI) chairman Imran Khan after core committee meeting has announced to shutdown Islamabad on November 2.
Khan talking to media after a meeting with senior party leaders at Bani Gala on Monday said "We will go to any extent to force Nawaz Sharif to step down or order an inquiry,"
"We will not let government function after November 2. Prime Minister Sharif has been caught telling lies in the Parliament over his offshore properties," he said.
He urged people from across the country to come out of their homes and support PTI in its drive against corruption in the country.
The Chairman PTI Imran Khan has already clarified that this time, the siege of the federal capital would continue until the resignation of Prime Minister Nawaz Sharif.
Khan also told Prime Minister Nawaz Sharif to face an inquiry into Panama Leaks Papers or give resignation because according to him, "Not without justice, PTI will leave roads in Islamabad."
Apparently, the party changed its early decision for two reasons: First, due to Muharram and second, the previous date was falling on a Sunday, which would impact the protest.
Earlier, PTI's siege was planned for October 30 but then the party decided to change the date.