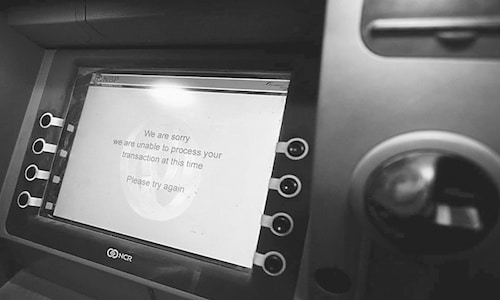 Most of the automated teller machines (ATM) of several banks are out of order on Friday just a day ahead of Eid-ul-Azha.
Most of the commercial banks ATMs faced shortage of cash while the network was not operational at several banks.
Karachiites are facing immense trouble in withdrawing cash in preparation for the festive occasion of Eid-ul-Azha.Long queues were witnessed at the those ATMs which were operational.
Despite the State Bank of Pakistan directives to take action against bank who ATMs were not properly functional and had cash shortages, many bank are having sever down time.
State Bank on Thurday had issued fresh banknotes of Rs. 168 billion on the occasion of Eid-ul-Azha to faciliate the general public.
This includes banknotes of lower denomination (up to Rs.100) of Rs. 8 billion and higher denomination banknotes (Rs.500 and above) of Rs. 160 billion, which were meant for heavy payments and ATM needs of commercial banks.
Banks were also issued lower denomination fresh bank notes worth Rs. 7 billion to disburse to the public and account holders.