Martina Hingis won her first Wimbledon title since 1998 when she and partner Sania Mirza captured the women's double trophy on Saturday.
Hingis, 34, and 28-year-old India star Mirza came from a set down and 2-5 behind in the final set to beat Russian duo Ekaterina Makarova and Elena Vesnina 5-7, 7-6 (7/4), 7-5.
It was the top seeds' first Grand Slam title as a team having only decided to play together in March this year.
Hingis won the Wimbledon doubles with Helena Sukova in 1996 and Jana Novotna in 1998.
For Mirza, it was a maiden women's doubles title at a Grand Slam although she has won three mixed doubles at the majors.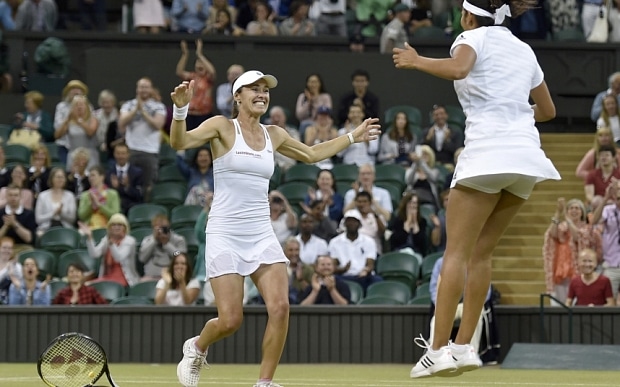 "It's been another lifetime. Seventeen years, usually you're lucky to win it once or happy to be out here and play on the Wimbledon grounds. It's above my expectations," said Hingis who was also the singles champion at Wimbledon in 1997.
"I have a great partner to pull me through. It takes guts and courage being 5-2 down in the third set. Couldn't have asked for more drama how to win it."
The final was halted at 5-5 in the deciding set due to fading light and to allow the Centre Court roof to be closed.
When the players returned, Hingis and Mirza raced through the next two games to take the title.
"To come out here at Wimbledon, this is something we dream of as kids," said Mirza.
"Every kid that picks up a tennis racquet this is about winning Wimbledon or playing at Wimbledon one day.
"When we came out at 5-5 we had goosebumps. The energy on the court, we were getting a standing ovation, it was unbelievable. We both came out and I said, This is what we play for, this is what we work for, this energy."
Mirza praised the support she and Hingis received throughout the tournament and hoped her win will have a positive impact back home in cricket-mad India.
"I hope it inspires a lot of girls and makes them believe they can be Grand Slam champions too," she said.
"I think for me as an Indian, I'm in Little India here. There are so many Indians in England. Thankfully there are a lot of us everywhere. In England especially I've always had amazing support."
Hingis can be back amongst the silverware on Sunday when she and Leander Paes face Alexander Peya and Timea Babos in the mixed doubles championship match. (AFP)