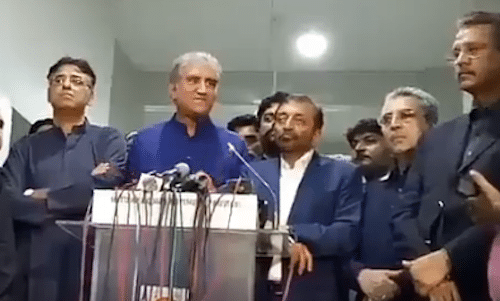 Pakistan Tehreek-e-Insaf (PTI) and Muttahida Qaumi Movement Pakistan (MQMP) on Tuesday agreed to elect new opposition leader in the National Assembly.
A PTI delegation led by Shah Mahmood Qureshi, including Asad Umar, Imran Ismail and Dr Firdous Naqv ivisited MQM(P)'s headquarters in Bahadurabad, Karachi.
MMQ(P)'s team was led Dr Farooq Sattar. MQM side comprised of Dr Khalid Maqbool Siddiqui, Amir Khan and Karachi mayor Wasim Akhtar.
Both parties have mutually agreed and  discussed the possibility of replacing PPP leader Khursheed Shah as the leader of opposition in the National Assembly.
After the meeting, Dr Farooq Sattar said that MQM supported the resolution proposed by the PTI, adding that the parties discussed country's overall political situation.
"We have no personal grievances against anyone. We respect Khursheed Shah but we have concerns regarding PPP-PML-N collusion during the installation of a caretaker set-up." Shah Mehmood Qureshi remarked
To a question, he said the conditions of the city can't improve till we have an effective local bodies system.
"What is the point of a mayor if he doesn't have power?" added Shah. It is unfair if people don't get adequate facilities despite casting their votes, he remarked, adding that the party leaders discussed a lot of issues with MQM-Pakistan.