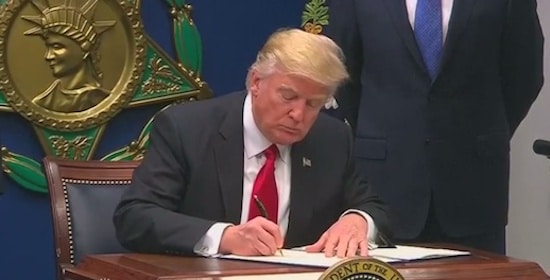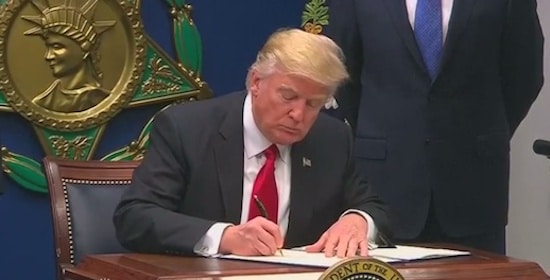 President Trump signed an executive order making changes to H1-B visa program to restrict the flow of foreign labor, a move that will hit hard the Indian IT sector which has a lion's share in workers making it to the United States every year under the program.
Citing background briefing by the White House, a Washington Post report said that the order will make it harder for tech companies to hire cheap foreign labor, replacing it with American workers. The new order will also strengthen rules that will bar foreign contractors from bidding on government projects.
The proposed rules will hit the Indian outsourcing firms such as Infosys, Tata Consultancy Services and Wipro which receive the lion's share of the visas because they submit tens of thousands of applications to increase their chances.
The U.S. Citizenship and Immigration Services said on Monday that it
received 199,000 petitions for 85,000 slots during this year's H-1B visa lottery. Last year, the agency received 236,000 applications.
Under the executive order, instructions will be issued to the Departments of Labor, Justice, State and Homeland Security to check the fraud and abuse in guest-worker programs by issuing new immigration rules.
The report said that the White House officials have singled out the H-1B visa for "high-skilled" foreigners in the science and engineering industries as the priority for reform, but say that a comprehensive review could lead to changes in other guest worker programs. During the election campaign, President Trump had promised to end forever the use of the H-1B as a cheap labor program.
"His executive order would require the agencies to perform administrative reviews immediately and propose reforms to ensure that the H-1B visas are awarded to the most skilled and highest paid workers," the report said quoting officials.
"What Trump is doing is a thousand-fold better than what Bush did, or
Obama or what Hillary would have done. He iss doing something for us," Mike Emmons, a software developer in Longwood, Florida, told Washington Post, who was let go from Siemens ICN after training his foreign replacement in 2002. " It was the most depressing thing I've ever been through — having to train people to do my job, only so I could get laid off.'
However, those supporting the H-1B visa reform cautioned against making rash changes without considering the ripple effect on the nation's green card system or employers at large. (APP)