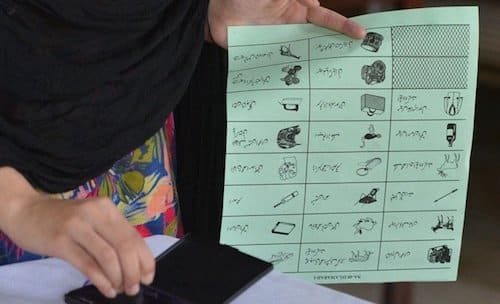 The polling for by-election in Mehmoodabad PS-114 constituency in Karachi began Sunday morning.
The Pakistan Election Commission (PEC) announced poll after the election of Pakistan Muslim League – Nawaz (PML-N) leader Irfanullah Marwat was declared void.
In general elections 2013, Marwat had won the elections but his victory was declared void by the election tribunal in July 2014. On May 11, the Supreme Court dismissed Marwat's appeal challenging the Election Commission of Pakistan's (ECP) decision, paving the way for the by-polls.
As many as 27 candidates, including Pakistan Peoples Party's (PPP) Senator Saeed Ghani, Pakistan Tehreek-e-Insaf's (PTI) Muhammad Najeeb Haroon and Muttahida Qaumi Movement (MQM) – Pakistan's Kamran Tessori are contesting the by-elections.
Jamaat-e-Islami Karachi Amir Hafiz Naeemur Rehman has alleged that the PPP has been using state machinery to manipulate the results in the party's favour.
More than 1,200 security personnel have been deployed in the constituency as part of strict security measures.
Rangers personnel have been deployed at every polling station alongside police.
Around 33 polling stations in Azam Basti and Mehmoodabad have been declared sensitive while 59 have been declared most sensitive. The election campaign went on for 38 days with around 30 public events. Over 70,000 banners and panaflex boards were brought into use – around Rs0.5 million was spent for the purpose.
Polling will continue till 5pm. According to the district residing officer, polling process has so far remained peaceful. ECP has allowed the use of expired CNICs for casting votes.
News input was taken from 'Samaa News'