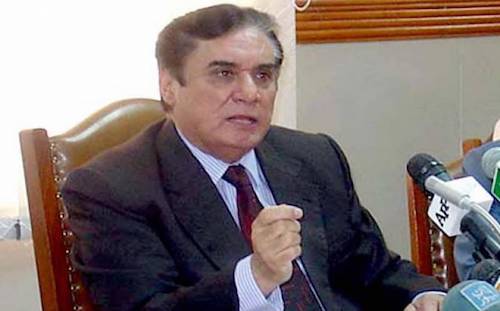 All Pakistan political parties have agreed on name Justice (retd) Javed Iqbal has been finalised as the next National Accountability Bureau (NAB) chairman.
Leader of Opposition in the National Assembly, Khursheed Shah, said on Sunday that four meetings have been held recently to decide on the name of the new NAB chairman with the members of the opposition and the government.
Confirming the name of Justice (r) Javed Iqbal, Shah said that  Javed Iqbal is a former apex court judge, who possesses valuable judgment skills and especially lauded his report in the Abbottabad Commission.
The Pakistan Peoples Party leader had proposed Justice (retd) Faqir Muhammad Khokhar, Justice (retd) Javed Iqbal and former secretary of the Election Commission of Pakistan Ishtiaque Ahmed Khan for the post whereas the government had suggested Justice (retd) Rehmat Jafry, Justice (retd) Chaudhry Aijaz and Intelligence Bureau Director General Aftab Sultan.
Shah met Prime Minister Shahid Khaqan Abbasi on Friday to discuss the matter of the chairman's selection.
In the meeting, which lasted over an hour, Shah said he placed names given by the Pakistan Tehreek-e-Insaf and Muttahida Qaumi Movement in front of the prime minister as well.
The incumbent NAB chairman, Qamar Zaman Chaudhry, is retiring on October 10 after the completion of his four-year tenure.