Pakistani lepers' messiah Dr Ruth Pfau passed away early Thursday morning at 4am after a long illness. She was 87.
Dr Pfau funeral mass will be held on Saturday, August 19, at 11am at St Patrick's Cathedral, and thereafter will be laid to rest in the Christian Cemetery (Gora Qabristan).
Dr Pfau had been hospitalised at a private hospital in the metropolis for two weeks due to age-related illnesses and her condition had been worsening.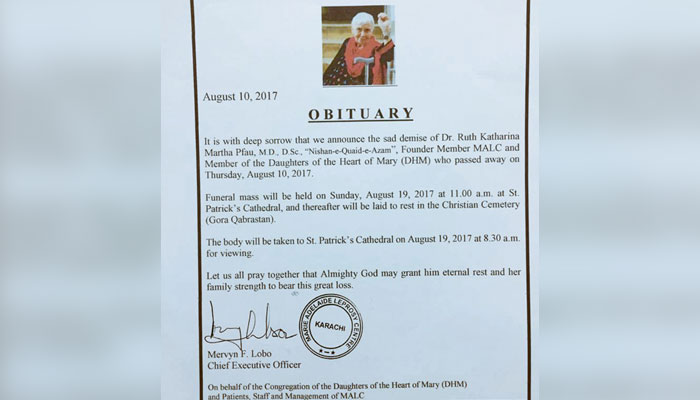 Dr Pfau, the founder of the National Leprosy Control Programme in Pakistan, was in charge of the Marie Adelaide Society of Pakistan (MASP).
Dr. Pfau  was founder of the Marie Adelaide Leprosy Centre in Karachi and in all provinces of Pakistan, including Gilgit-Baltistan.
Dr. Pfau had treated over 50,000 families since the inception of the centre. Dr Pfau dedicated her life to treating patients in Pakistan.
Dr Pfau had been living in Pakistan since 1960 and came to the country when she just 29.