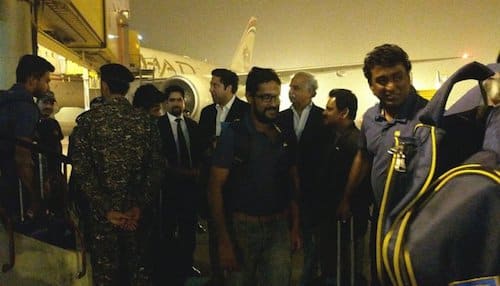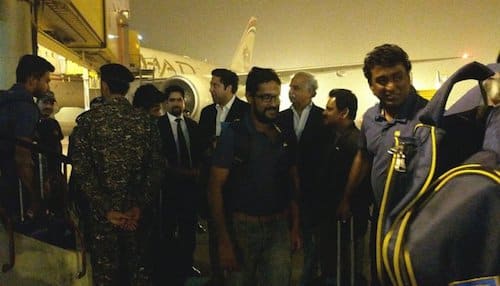 Pakistan and Sri Lanka teams arrived  Lahore on early Sunday morning amid tight security to play third and final match of the Twenty20..
Lanka team led by Thisara Perera after Upal Tharanga landed at Allama Iqbal International Airport at 2:25 AM. Whereas Pakistan's squad reached Lahore at 1:50 AM.
Both teams safely reached their hotel from Allama Iqbal International Airport, escorted by security officials and police
Sunday's game will mark the homecoming of top-level international cricket as Sri Lanka becomes the first major cricket team to visit Pakistan since they were targeted in a deadly ambush back in 2009.
In 2009, gunmen attacked a bus carrying the Sri Lanka team from their hotel to Lahore's Gaddafi stadium for a match, injuring six players and killing six security personnel and two civilians.
The incident forced Pakistan to play their home matches in the United Arab Emirates (UAE) and the country has since remained starved of international cricket at home, apart from Zimbabwe's limited-overs tour in 2015.
Tens of thousands of security personnel have been deployed in Lahore to guard routes to the stadium for the occasion, while air surveillance and intelligence monitoring is also in place as Pakistan rolls out head-of-state level measures.