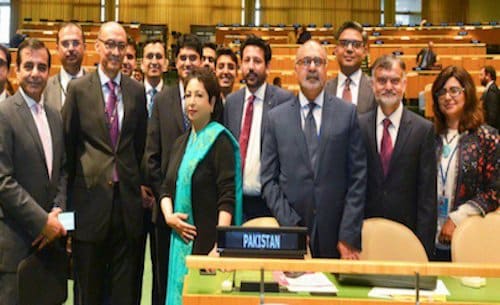 Pakistan on Monday won a key election by securing a seat on the United Nations Human Rights Council when the General Assembly elected 15 countries to serve on the 47-member body.
"This victory is a ringing endorsement of Pakistan's strong commitment to human rights," an elated Maleeha Lodhi, Pakistan's permanent representative to the United Nations, said in a post-election interview with APP.
"Pakistan's entire leadership, parliament and judiciary have all proactively pushed the human rights agenda," Lodhi said.
The election in the 193-member Assembly was by a secret ballot, with a simple majority required.
Pakistan polled 151 votes, when 97 were needed.
There were five candidates contesting for four Asia-Pacific seats on the Council.
Apart from Pakistan, Afghanistan, Nepal and Qatar also won seats on the Council.
Malaysia, with 129 votes, could not get elected.
The contest was only in the Asian-Pacific group.
Members of the Council serve for a period of three years and are not eligible for immediate re-election after serving two consecutive terms.
This is the fourth time Pakistan has been elected to the 47-member Council—the first success came in 2006 when the Council was created by the UN General Assembly.
"Our victory is a manifestation of the international community's trust in Pakistan," Lodhi said.
"Pakistan is humbled by and grateful for the overwhelming support received from the world community", she said, adding, "Pakistan's election gives the lie to those who claim that Pakistan is isolated.
"Asked what Pakistan's objectives will be in the Council, the ambassador said, "We will use our membership to protect our core national interests, uphold universal values, be a bridge-builder between polarised positions and expose human rights abuses by India in occupied Kashmir". (APP)