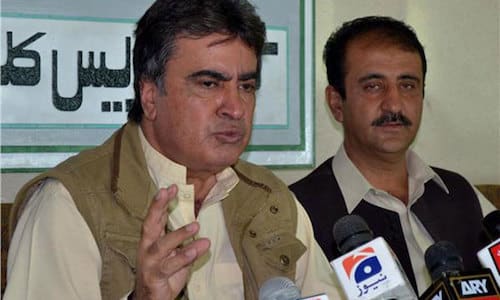 Central leader Balochistan National Party (BNP-Mengal) Senator Dr Jehanzeb Jamaldini on Sunday urged political parties to shun their difference and work jointly for economic development and social uplift of remote areas of Balochistan.
Talking to APP, Jamaldani said that it was high time to pay more focus on construction of small dams in Balochistan to boost
agriculture sector of the province to turn several thousand acres of barren land into green land.
He said that a large area of barren land could be used for various crops by managing availability of water which was only
possible with initiating small dam projects in the province.
He said that such projects are vital to promoting agriculture and agro-based economy and ensuring socio economic progress of
the province and the country as well.
This will enable the local residents to cultivate their lands and accrue economic benefits, he added.
He said that the government should also initiate work on setting up small industrial zones in Balochistan to achieve
better results by enhancing industrial growth of the country.
Terming China Pakistan Economic Corridor (CPEC) as important project for uplift of country, Jamaldeni expressed the hope that people will truly get the positive impacts of this project.
He said that with this project, the living standard of people of Balochistan will also change with investment in various sectors
that will lead to address the issue of unemployment.
He said that the federal and provincial governments while considering the sufferings of people of Balochistan, should announce
a social relief package for people of Balochistan to improve health care delivery system and improving education system.
He said that the Balochistan province is full of natural resources which needs attention of the quarters concerned. He said
that investors should be invited to invest in various sectors in Balochistan by announcing incentives for them.
He said that BNP-Mengal is not against any political party or the government or against any development project like CPEC. He said "We wanted to have proper share of locals in this project for their overall uplift."
He said that the federal government should construct colleges and universities in far-flung areas of Balochistan including Gwadarbesides creating job opportunities for locals.
He said "We believe in the supremacy of the parliament andrespect all political parties for having true democratic system
in the country." (APP)