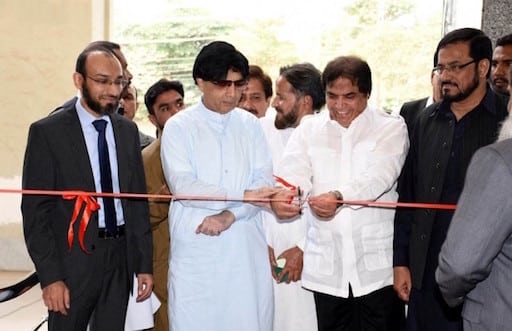 Interior Minister Chaudhry Nisar Ali Khan Tuesday inaugurated a state of the art mega National Database and Registration Authority (NADRA) Center and executive Passport office at Rahmanabad, a one-window operation facility in the city.
Talking to media, the minister said, five more such centers would also be set up in Islamabad and four provincial capitals where international standard facilities would be provided to the citizens.
He said the government is taking solid steps to provide modern facilities to the citizens.
Over 100,000 Computerised National Identity Cards (CNICs), including those issued illegally to foreigners, in the past, have been blocked during last two and half years. Thousands of fake CNICs issued to Afghan nationals have also been blocked, he said.
The minister informed that more than 200 NADRA officials involved in issuing fake CNICs were terminated and arrested on account of corrupt practices. Corruption in government departments would not be tolerated and strict action in accordance with the law would be taken against such elements, he added.
He said that VIP culture for getting passport had already been abolished as every citizen is a VIP.
Nisar said a sum of Rs 22 billion would be collected under head of passport and immigration during the current fiscal year.
NADRA was running in a loss of Rs one billion during last year of the previous regime, he said adding, NADRA has earned Rs five billion profit during first year of the PML-N government and Rs six billion in the second year.
To a question the minister said "We are taking indiscriminate action against NADRA officials found involved in issuance of fake CNICs."
Earlier briefing the minister, Chairman NADRA Usman Mubeen Yousaf informed that the Mega Center will cater to the needs of 700 to 800 applicants daily.
He informed that the center would offer all NADRA services, including identity cards, child registration certificates and family registration certificates in minimal time.
He said the new centre also have an executive passport office where citizens can apply for passport services. The office staff was provided by NADRA and an officer from Immigration and Passports.
The NADRA side of this mega centre has a seating capacity of 85 persons in waiting while the passports side has the capacity of 96 people. Initially the centre would operate during normal office hours however, the timings of the centre would be extended later on, he added
The workflow in these centres is designed in such a manner as to ensure efficiency and save time of the applicants, he added. (APP)