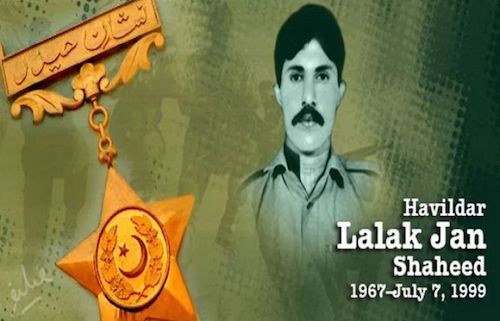 The death anniversary of Havaldar Lalak Jan Shaheed is being observed today.
Havaldar Lalak Jan Shaheed was awarded the Nishan-e-Haider for the commitment and courage he demonstrated in the Kargil War in 1999, Lalak Jan was born on April 1, 1967 and enlisted in the army on December 10, 1984.
During the Kargil was he was serving in the Northern Light Infantry Regiment and fought from the forefront to thwart heavy Indian attacks. In May 1999, he willingly volunteered to be deployed on the front positions located at the jagged peak.
Havildar Lalak Jan repelled many aggressive ventures by the enemy and imposed massive losses on them.
On July 7, 1999 Lalak Jan sustained serious injuries as enemies pounded the area with heavy mortar shells. Despite his injuries, he stayed at his position and fought off the Indian assault. He soon succumbed to his wounds and was martyred.