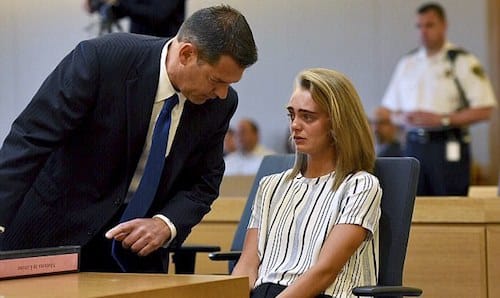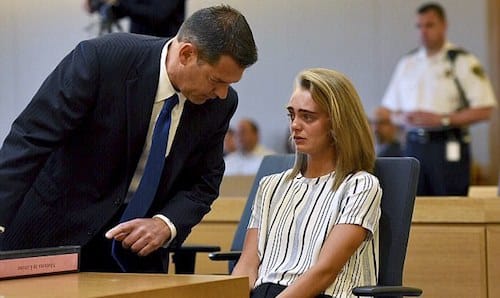 An American girl has been accused of persuading her teenage boyfriend to kill himself with a string of text messages in a bid to win sympathy as a grieving girlfriend was playing a "sick game".
Michelle Carter, 20, allegedly urged her 18-year-old boyfriend Conrad Roy to kill himself by bombarding him with dozens of texts and phone calls.
Roy killed himself on July 12, 2014 when he was forced to do so by Carter. He ended his life by inhaling carbon monoxide in his car. At first, he climbed off the car, scared for his life, but his girlfriend pressured him to go back, the text messages between the two revealed
Prosecutor Maryclare Flynn told the trial at a juvenile court in Taunton, Massachusetts, today that Carter "used Conrad as a pawn in her sick game of life and death."
She knew her plan to get attention would work because she pre-tested it,' the court heard.
 'Two days before Conrad committed suicide, she did a dry run, texting several girls that Conrad had gone missing while simultaneously testing Conrad, telling him to get the gas machine.'
Prosecutors released transcripts of text messages the then-17-year-old Carter sent to Roy prior to his death.
In one, she allegedly wrote: "The time is right and you're ready, you just need to do it!"
Carter, who never called authorities or Roy's parents as he died, wanted the sympathy and attention that came with being the "grieving girlfriend," Flynn said
On the night Roy killed himself, he was scared but Carter talked him into it and mocked him for not taking the drastic step once and for all.
"All you have to do is turn on the generator and you will be free and happy. People who commit suicide don't think this much. They just do it. You'd better not be bull****ting me and just pretending. Tonight is the night, it's now or never," her text messages read.
However, her defence persisted that it Roy's death was a case of tragic suicide instead of homicide.
"Conrad Roy even acknowledged that Michelle Carter doesn't have influence over him," he said. "He was on this path to take his own life for years," her defence said, citing several of Roy's attempts to take his own life before July 2014