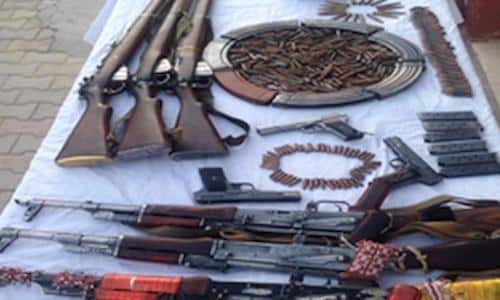 FC Balochistan conducted operations in various parts of Balochistan and killed four wanted terrorists affiliated with BRA and UBA.
According to Inter Service Public Relation (ISPR), during these operations in Dera Bugti district, Thango and Keleri affiliated with BRA were killed. They were involved in the abduction of civilians and attacks on security forces
Mohammad Khan and Jalal Deen, affiliated with UBA, were killed in Sibbi district of the province. The terrorists were involved in blasts targeting railway lines, planting IEDs and destroying power lines.
A suicide bomber, belonging to the proscribed Lashkar-e-Jhangvi (LeJ), was also arrested along with 23 other suspects in the operations conducted by FC Balochistan, added ISPR.

24 Suspects including a Sucide Bomber Sami Ullah belonging to Dera Murad Jamali  of LeJ  apprehended.
During these operations FC recovered  LMGs, SMGs,  Rifles, Pistols, IEDs, 16 kg explosives, hand grenades,  Rockets, Mortar shell and 15032 rounds of mixed caliber ammunition.