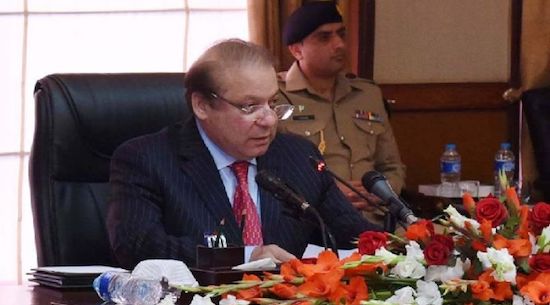 Prime Minister Muhammad Nawaz Sharif Thursday said it was a collective responsibility of federal government and provinces to come forward for development and mainstreaming of Federally Administered Tribal Areas (FATA), Azad Jammu and Kashmir (AJK) and Gilgit Baltistan (GB).
"Pakistan belongs to every Pakistani and all areas of the country should have equal rights and access to national resources," he said this chairing the meeting of federal cabinet here at the PM's Office.
The cabinet accorded in-principle approval of the recommendations of the FATA Reforms Committee.
"Today is a landmark date in the history of this country. Since the dawn of our nation, select people have been treated differently due to their place of birth," the prime minister remarked.
He said the people of FATA had been deprived of their fundamental rights for too long and facing economic deprivation, pains of terrorism, and the anguish of isolation. However, the PML-N government had finalized reforms that would bring FATA out of the primitive ages.
He said the roadmap for merger with Khyber Pakhtunkhwa would provide them constitutional protections, the establishment of local governments, an extension of the criminal justice system, modern policing and a share in the fruits of development.
"The people of FATA will no longer be at the whims of an unjust and unaccountable system. Today, they are on the true path of freedom who can share in the dream of prosperity and be a part of a country on the road to becoming stable, secure and safe for people of all stripes," Prime Minister Sharif said.
He said Pakistanis living in far-flung areas of AJK, GB and FATA must be enabled to get access to services and facilities available to the residents of Lahore, Karachi, Peshawar and Quetta.
He pointed out that those unwilling to extend the required cooperation and assistance for mainstreaming of FATA, GB and AJK were "actually promoting provincialism".
Nawaz Sharif said development of FATA was the responsibility of the entire nation and country.
"Mainstreaming and developing these less developed areas is not the sole responsibility of people living in Islamabad, but every Pakistani must contribute in this process," he said.
The prime minister mentioned the patriotism and nationalism of the people of FATA and said their history was filled with examples of love with Pakistan.
"They gave immense sacrifices for the defence andsovereignty of Pakistan. Now, time has come to include them in national mainstream and address their deprivation," he said.
He stressed the need to promote the spirit of nationalism for the country's solidarity and include all parts of country to benefit from the fruits of progress.
"It is our responsibility to focus more on under-developed ares and provide opportunities to the locals to progress in different fields of life," he said.
Secretary SAFRON, Arbab Shahzad briefed the cabinet on recommendations of FATA Reforms Committee.
Governor Khyber Pukhtunkhwa Iqbal Zafar Jhagra attended the cabinet meeting on special invitation. (APP)