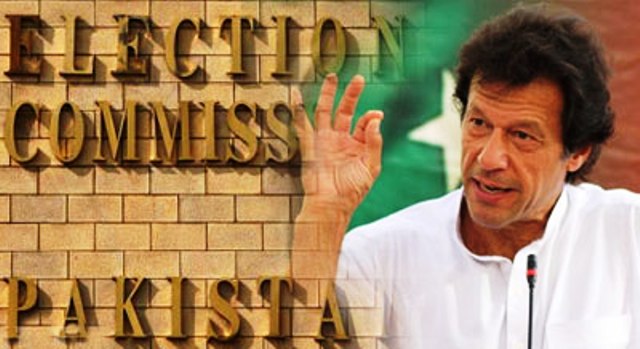 The Election Commission of Pakistan (ECP) issued on Thursday  bailable arrest warrants for Pakistan Tehreek-e-Insaf (PTI) Chairman Imran Khan.
The ECP issued  bailable warrants of arrest against Imran Khan for failing to appear before it in the contempt of court case against him.
The ECP ordered Imran to submit a surety bond of Rs.100,000 until September 25 and nominate two persons who would ensure payment of the amount and be held responsible otherwise.
Khan is facing the case over his scandalous remarks about the commission. The contempt petition was filed by PTI founding member Akbar S. Babar.
A full bench of the ECP headed by Chief Election Commissioner retired Justice Sardar Mohammad Raza is hearing the case.
After hearing Babar Awan, the ECP issued bailable arrest warrants for Imran Khan and ordered him to appear in the next hearing on Sept 25.
The five-member ECP bench, headed by chief election commissioner Justice (retd) Sardar Raza Khan, had summoned Imran in person on Thursday but he failed to do so.