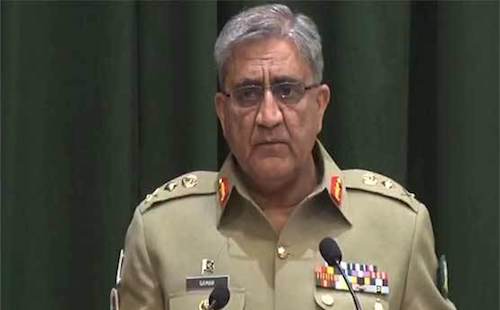 Chief of Army Staff (COAS) General Qamar Javed Bajwa has announced a 'safe city project' for Parachinar.
According to Director General Inter Services Public Relations (DG ISPR) Major General Asif Ghafoor, additional reinforcements have arrived in Parachinar while safe city project for the area has also been started.
Talking to the media persons in Parachinar on Friday, he said the menace of terrorism will be crushed with unity.
"Security of every area of the country is important for us," he affirmed.
He said Pakistan has decided to completely fence its border with Afghanistan.
Ghafoor said the fencing will be done in two phases.
In the first phase, fence will be built in the most sensitive areas.
Earlier, General Qamar Javed Bajwa visited Parachinar. On the occasion, he was briefed about the security situation in the violence-hit area.
The Army chief also held a meeting tribal elders and the heirs of those killed in Parachinar blasts.
The Locals and tribal leaders expressed full confidence and trust in Pakistan Army and its leadership.
They said we stand behind Pakistan Army.
Tribal elders said that we are Pakistanis and Muslims only. They said our blood is for Pakistan.
Tribal elders remarked that we understand challenges and contributions of our brave forces. (PhotoNews / APP)