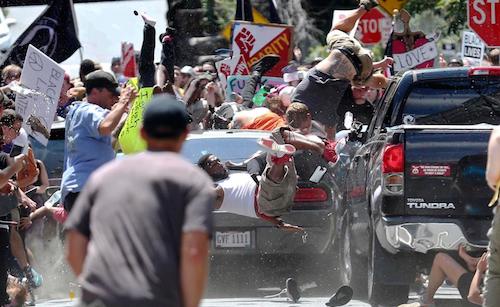 At least one person died and 30 were injured in a day of violent clashes between white nationalists and counter-protesters in Virginia on Saturday, with the state's governor blaming the neo-Nazis for sparking the violence and demanding that they go home.
Two people also died when a Virginia State Police helicopter crashed near the violence in Charlottesville, federal aviation officials said.
It was not clear if the crash was related to the outbreak of clashes in the Southern college town, where protesters fought hundreds of white supremacists trying to halt the planned removal of a Confederate statue from a park.
Virginia Governor Terry McAuliffe – a Democrat – declared an emergency and halted a white nationalist rally, while President Donald Trump condemned the violence.
"I have a message to all the white supremacists and the Nazis who came into Charlottesville today. Our message is plain and simple: go home," Virginia Governor Terry McAuliffe told a news conference.
"You are not wanted in this great commonwealth. Shame on you," he said.
The clashes highlight how the white supremacist movement has resurfaced under the "alt-right" banner after years in the shadows of mainstream American politics.
"We're closely following the terrible events unfolding in Charlottesville, Virginia," Trump told reporters at his New Jersey golf course.
"We condemn in the strongest possible terms this egregious display of hatred, bigotry and violence on many sides."
A reporter shouted a question to Trump about whether he had spoken out strongly enough against white nationalists but the president made no comment.
A 32-year-old woman died when a car slammed into a crowd in Charlottesville, home to the University of Virginia, police said. Five people suffered critical injuries and four had serious injuries from the car strike, the University of Virginia Health System said.
Video on social media and Reuters photographs showed a car slamming into a large group of what appeared to be counter-protesters, sending some flying into the air.
Suspect James Alex Fields, Jr. – the 20-year-old driver of the car who hails from Ohio – has been taken into custody and the incident is being treated as a homicide, Charlottesville Police Chief Al Thomas told a news conference.
Fields, Jr. is being held on suspicion of killing a person by ramming a car into the crowd, with charges including second-degree murder, the Charlottesville jail superintendent said late Saturday night.
The incident occurred after earlier clashes nearby.
'Domestic terrorism?'
Prominent Democrats, civil rights activists, and even a few Republicans said it was inexcusable of the president not to denounce white supremacy.
Mr. President – we must call evil by its name. These were white supremacists and this was domestic terrorism. https://t.co/PaPNiPPAoW

— Cory Gardner (@SenCoryGardner) August 12, 2017
"Mr. President – we must call evil by its name," Republican US Senator Cory Gardner, wrote on Twitter.
"These were white supremacists and this was domestic," said Gardner, chairman of the National Republican Senatorial Committee, the group charged with helping to get Republicans elected to the Senate.
2) The United States condemns it overseas and needs to start to do same at home.

— John Kerry (@JohnKerry) August 12, 2017
Former US Secretary of State John Kerry, who served under Democratic former President Barack Obama, said in a tweet, "What we've seen today in Charlottesville needs to be condemned and called what it is: hatred, evil, racism & homegrown extremism,"
The Charlottesville confrontation was a stark reminder of the growing political polarization that has intensified since Trump's election last year.
"You will not erase us," chanted a crowd of white nationalists, while counter-protesters carried placards that read: "Nazi go home" and "Smash white supremacy."
In the afternoon, a silver sedan driving at high speed ploughed into the crowd before reversing along the same street. The incident took place about two blocks from the park that houses the statue of Robert E. Lee, who headed the Confederate army in the American Civil War.
Witnesses said it looked like the driver intended to mow down people. Police have not offered any details on the car incident.
Scott Stroney, 50, a catering sales director at the University of Virginia who arrived at the scene about a minute after the crash, said he was horrified. "I started to cry. I couldn't talk for awhile," he said. "It was just hard to watch, hard to see. It's heartbreaking," he said.
In declaring the state of emergency, McAuliffe termed the gathering an "unlawful assembly," allowing police to disperse the protesters, and police cleared the park where the rally was to be held.
The violence began on Friday night when hundreds of white marchers with blazing torches appeared on the campus of the University of Virginia in a display that critics said was reminiscent of a Ku Klux Klan rally
On Saturday morning, fighting broke out in the city's downtown when hundreds of people, some wearing white nationalist symbols and carrying Confederate battle flags, were confronted by a nearly equal number of counter-protesters.
David Duke, a former leader of the white supremacist Ku Klux Klan, was in Charlottesville for the rally, according to his Twitter account.
The rally was part of a persistent debate in the US South over the display of the Confederate battle flag and other symbols of the seccessionists side in the American Civil War, which was fought over the abolishment of slavery from 1861-1865.
The violence in Charlottesville is the latest clash between far-rightists, some of whom have claimed allegiance to Trump, and the president's opponents since his inauguration in January, when black-clad anti-Trump protesters in Washington smashed windows, torched cars and clashed with police, leading to more than 200 arrests.
About two dozen people were arrested in Charlottesville in July when the Ku Klux Klan rallied against the proposed removal of the Lee statue. Torch-wielding white nationalists also demonstrated against the decision in May. (Reuters)