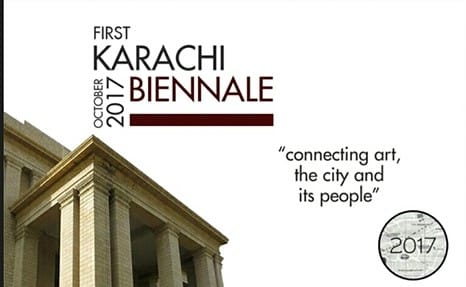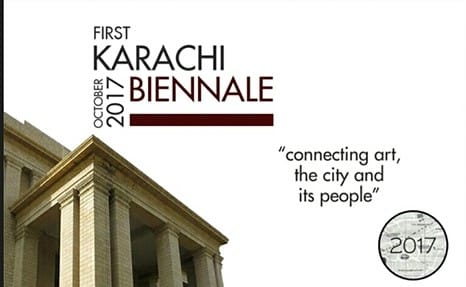 Karachi (art) Biennale 2017 is pretty much Pakistan's largest ever pan international contemporary art event. it will take in place every two years in the city of Karachi. In fact, come October this year almost 150 artists not just from Pakistan but also from across the globe will resonate to the same recurring Theme:
(Bear) Witness
This theme is the brain child of resident chief curator Amin Gulgee who has effectively conceptualized this concept for the KB17 series exhibitions, that will be heavily interspaced with live performances, screenings, and dialogue so as to familiarize people with the myriad forms of high art.
o   It's all absolutely freeeeeee!
KB17's fortnight long completely free public exhibition encompassing over a dozen venues, is the ultimate occasion to participate in an intellectual, aesthetic, and perhaps highly emotive survey of this great mega city we call home.
"KB17 is an occasion to revisit our collective history, rethink our immediate present, and reimagine our future with a far greater degree of unabashed optimism"
What is it all about?
Oct 22 – Nov 5 2017
The biennale in Karachi, KB17 may be defined in the following words
"it is the penultimate visionary platform that focuses on innovation, excellence as well as a highly critical approach by employing the right curatorial stratagems that will effectively help bring art from Pakistan and the rest of the world together for a large public audience."
The core aim is to create a platform that will utilize the synergies of the diverse creative energies present there to cross pollinate ideas from all over the world and thereby explore meaning and truth all across different art disciplines as well as their contextual frameworks.
Here, many known and budding artists have been invited to respond to the main theme as well as vision of the entire biennial I.e. WITNESS.
Why art alone?
Time itself is a mute testimony of the fact that fine art has always held particular significance, in all the epochs of man's quest for civilization. From the cave drawings of the Neolithic era till today, it helps usremember all that is now lost in the endless sea of time.
'The struggle of man against power is the struggle of memories against forgetting'. Kundera

In fact, this is precisely why this theme has been chosen for this year's biennale. It is due in large part for its really strong relevance to the politics of erasure representation, and selective documentation, with which our sub-continent has been perennially plagued.
o   The venue
The main venue of KB17 is the 160-year-old, NJV School building on main M.A Jinnah road. This school is situated well within the oldest and most historical areas of the huge megacity that is Karachi.  This will give relatively easy access to both new audiences and the older generation of aficionados of the arts. This venue is also an excellent place to throw the spotlight and imitate discussions on Karachi's history, that has been often overshadowed by the tensions and rigors of rapid and unchecked growth.
o   Karachi: A historical perspective
Since the 1950s, even as Karachi grew from a small harbor town to the mega urban center, it is today, it has always attracted independent thinkers. Unburdened by an established canon, it has always embraced artists who wanted to respond to the personal and the political with greater freedom.
As a matter of fact, Karachi has always been home to many influential Modernists and Contemporary artists; its gallery circuit is unrivalled virtually in the country, and is also considered one of the most vibrant in all of the sub-continent.
With an architecture of exhibitions, discursive interventions, and extensive visitor programs during the KB17, art in Karachi will combine creative energies and spark new ones.
o   Contemporary art in Karachi
A fast-growing arts scene has flourished within the white cube spaces of galleries that are scattered all over the city. Ultimately the core goal of the Karachi Biennale 2017 is to bring this visual art into public spaces to encourage, invite, and sometimes impose public engagement on the viewing audience. U
sing the metropolis of the host city as its very own highly imposing  backdrop, the Karachi Biennale 2017 will present artistic content that addresses topics and initiates discussion under a conceptual framework titled "Witness". Projects will be created that interact with the viewing public to create a platform that is democratic and accessible.
The biennale brings together innovation, excellence and criticality through a multiplicity of curatorial strategies to showcase artists from Pakistan to the world as well as strengthen a regional art exchange. Pakistan has begun to feature prominently on the global map with many points of creative interest that have arisen with the international achievements of its artists These achievements reflect the depth and vitality of art production in the country that is  garnering world attention and it will create opportunities to engage  with the arts community of the city and beyond, through a holistic approach that will go beyond a lateral presentation of works; rather it will be  an engagement in the process of being informed about the  training and influences that provide content to artistic  practices