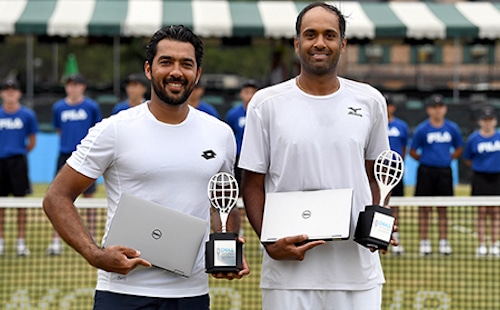 Pakistan's tennis star Aisam ul Haq has clinched the doubles title of the ATP Hall of Fame Tennis Championship.
The top duo, Aisam and Rajeev Ram defeated Matt Reid and John Smith in a thrilling final that lasted 75 minutes.
Aisam and Rajeev Ram won the first set without much resistance, dropping only four frames, but lost the second frame 4-6.
In the super tiebreaker, Aisam and Ram were better than their opponents, securing a 10-7 victory.
Aisam has bagged his fifth ATP title of the year apart from four ATP World Tour ones, all with different partners, and one ATP challenger at Surbiton, UK.
"It's been a pleasure to play with Rajeev. It's been a great week. I love Newport and I love coming back here. He's won so many titles on grass so it was a perfect combination," he said.
Talking about future, Aisam said, "Hopefully, we can play in the future again. Winning a tournament when playing together for the first time is a great feeling."