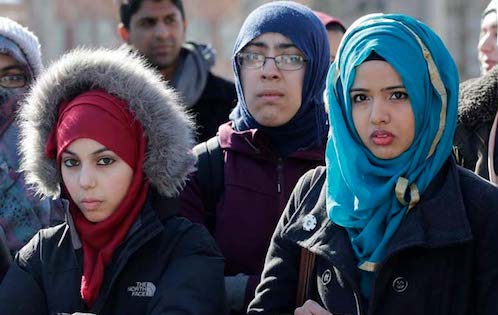 A new report finds that 75 percent of people do not help when they see a Muslim being abused in public.
"IF you saw a woman being verbally attacked by a man in the street, would you stop to help"?. The answer comes in a disturbing new report which revealed that if the woman being attacked is wearing a hijab, three out of four times we people look the other way. The startling statistic emerged in the new analysis of Islamophobic-fuelled attacks reported to the Islamophobia Register of Australia in a 14-month period between 2014-15.
Charles Sturt University's Associate Professor Mehmet Ozalp examined the 243 cases and made some confronting findings.
Women wearing a hijab or other Islamic head coverings are overwhelmingly bearing the brunt of public Islam hate attacks and the overwhelming majority of the attacks are perpetrated by men, NEWS.com reported.
Prof Ozalp's analysis found about 80 percent of verified anti-Islam attacks were inflicted on Muslim women and about 75 percent of the attacks were inflicted by Anglo men.
Just 25 percent of victims reported that witnesses attempted to  intervene. One-third of the women who reported being attacked had children with them at the time.
Ozalp wrote in the Conversation that while there was a spike in attacks after terrorist-related events, mostly, the attacks were fuelled by the tightly held belief among many Australians that Muslims simply do not belong in Australia.
"They are simply at the receiving end of the anger and rage caused by the Islamophobic generalization that something is inherently wrong with Muslims and Islam," he said.
Ozalp wrote that Islamophobia had long been a problem in Australia and, in particular, in the wake of the 9/11 terrorist attacks.
But he said should the issue continue to be ignored, it will become entrenched more deeply. "The reaction has often been the attitude, `Australians always pick on the latest arrivals; it seems it is the Muslims' turn, it will soon go away as it did for others in the past.'
"The problem is it is not going away. It is increasing."
"Recognition of Islamophobia does not diminish the achievements of Australian society and the success of its multiculturalism. It will merely highlight a social problem that cannot be ignored or downplayed any longer."
"An important aspect of Australian liberal democracy is the protection of its minorities. Minorities do not always have a voice in politics or media, and can often find themselves overwhelmed by negative perceptions and antagonism," he said while noting ignoring Islamophobia will only entrench the problem more deeply. (APP)